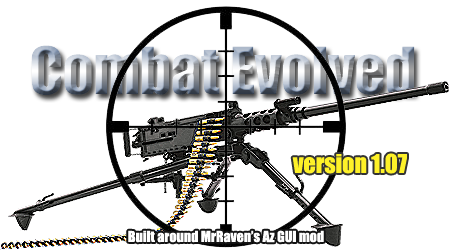 Combat Evolved is a mod overhaul for the Jagged Alliance - Back in Action game that expands/improves the vanilla game in many ways, from adding items, fixing bugs, increasing difficulty, to restoring some of the soul the Jagged Alliance mercs used to have. To date, except the translations, this continues to be a one-man project so the development might be slow at points, depending on my time, but I'll always try to deliver compatibility patches with the latest game version within 24 hours from release. Other than that, if you feel like contributing in some way, drop me a line.
Added items:
over 50 weapons (new models, not only description pictures) with stats reworked from scratch, which will result in a change in gameplay and make all weapon types useful;

9 new gun attachments, offering more tactical approaches per weapon type;

5 new ballistic vest types;

11 other uniform/clothing items;

13 new ammo types and modifies the stats for all ammo to reflect their real life counterparts;

2 new grenade types;

some more misc/quest items;
Gameplay and difficulty changes:
A.I.M. and freebie mercs are tweaked/changed (stats/gear/traits) to reflect their actual bios, improve immersion and add a bit of soul;

Deidranna's soldiers gear and stats changed to offer a better game progression and to look like an actual army;

Hillbillies stats and gear are changed (mostly for immersion purposes);

Slight changes to certain vanilla quests;

New quests (2 for now);

Enemies amounts and levels in each area to enhance game progression and difficulty;

Traders inventories and containers contents;

Custom AI templates to fit the enemy soldier templates (recon, medic, grenadier, sniper, machine gunner, officer - over 20 AI templates). Enemy behaviour will now be varied and will involve better tactics;

Increased number of templates for enemy soldiers (around 40) and hillbillies (7) allowing for greater variation in gear, tactics and looks;

Medical skill and items (bandages don't heal hp anymore, canteens now restore energy, not hp, syringes can now be found in limited amounts) changed to encourage hiring of mercs with high medical skill;

Modified militia stats, gear and given them concealable ballistic vests to make them more useful overall;
Changes to stealth:
Ever cursed when your stealthy merc sneaks to the door and then he/she just kicks the s**t out of the door raising alarm in a 100y radius? Well, no more! Door opening is stealthy by default (includes sounds and animations to fit);

Running is now noisy, as it should be, you can't run at full speed towards an enemy without being heard; on the other hand, crouching and crawling are slightly stealthier now;

Silencers have a greater impact on stealth approach;
Fixes to the vanilla game:
a lot of typos/description issues in the vanilla game;

some attachment points for vanilla weapons;

wrong ammo type for some vanilla weapons;

wrong coordinates for some vanilla item icons;

a bug where not all the hillbillies would spawn at farms;
And last but not least, a slick new interface, MrRaven's
Az GUI
== Teaser screenshots ==
== Weapons ==
== Weapon attachments ==
== Armors and clothing ==
== Misc items ==
== Installation ==
1. By default, the mod uses Az GUI icons and pictures and the difficulty is set to normal. To install the mod with the default options simply extract the contents of the archive to the game folder.
2. To play the mod on easy difficulty, AFTER installing the default mod (see 1), extract the content of the CE-Easy.zip to the game folder (archive will be found in the game folder).
3. To play the mod with the vanilla-like icons and pictures, go to <game folder>\bin_win32\textures\interface and delete all the file whose names begin with "ui_equipment_". After that, extract the content of the CE-Vanilla-Icons.zip to the game folder (archive will be found in the game folder).
A FAIR WARNING: easy difficulty affects the amount of noise your mercs are doing when performing actions, the amount and levels of the enemies defending the sectors, the accuracy of the enemy soldiers and the hiring price of your mercs. It is recommended that you first try the normal mode and only if that is too difficult for you, install the easy mode. Starting a new game is highly advisable after installing the easy difficulty.
== Requirements ==
The mod is compatible with game versions 1.13e to 1.13g. Using any other game version will most likely result in crashes and/or unstable behaviour.
== Known issues ==
- all the handgun attachments will change the firing sound to suppressed (can't be fixed by mods yet).
- the weapons with built-in silencer are not actually silenced (can't be fixed by mods yet).
== Compatibility ==
Given the fact that I ended up modifying quite a lot of files, there is most likely no direct compatibility with mods that alter config files. If there is enough interest in a certain combination of mods, most likely we'll be willing to make them compatible.
== Changelog ==
== Credits ==
First of all, a huge thanks to sbobovyc for his tools, without those none of this would be possible.
Kevin MacLeod from
http://incompetech.com
for "Junkyard Tribe" (main menu song).
Thanks to MrRaven for
his great UI mod
and for allowing me to make it a part of CE and modifying where needed.
Credits to zero for his
M.E.R.C. is back
mod and thanks for his permission to include it in CE.
I particularly want to thank daedalusxxi for the spanish localization, Calippo for the italian one, DaBoss for the german translation and emmanuuel for the (groovy!?) french localization.
Thanks to Confus for the initial brainstorming, the nudge that I needed to get things moving and some weapons descriptions.
Credits to the JA2 1.13 team for some weapons descriptions that I shamelessly ripped.
Credits to SirTech for the mugshots.
My girlfriend for not busting my balls while I was doing this the last weeks and even for assisting me with some data checking.
AAAAAAAAAAAAAAND...
.. last but not least, I do not consider this project closed or final in any way. I'll keep adding stuff and improving it at a steady pace. Hopefully now that there's something to show for, more modders may be interested in working together to take JA: BiA one step closer to JA2 1.13. With Stan's priceless contribution and his tools the game becomes more and more moddable by the day, so, while we're a huge way from JA2 still, BiA is starting to show some potential.
If you feel like supporting this mod (which is in no way mandatory but is really appreciated due to the fact that JA: BiA modding tends to eat up my time in which I could be otherwise productive) you can
(any amount is welcomed).
Download CE v1.07.300812 (49.4 Mb)